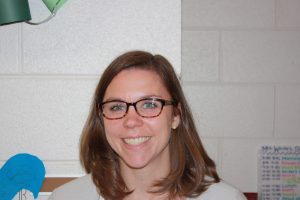 Name:
Chelsea White
Grade Level/Subject Taught/Position:
First grade
How long have you been at Clyde Elementary School?
This is my first year
Work experience and past careers?
I have taught Kindergarten, 3rd grade and AP for 8 years
Children/family/pets:
I have a son, Henry, and a dog, Oscar
Where are you from?
I grew up in upstate New York and moved to Waynesville when I was in 8th grade.
Where did you go to college?
Western Carolina University
Hobbies:
Reading, running, cross-fit, playing with Henry.
Fun facts about you:
I love Disney and will be running in The Glass Slipper challenge in February