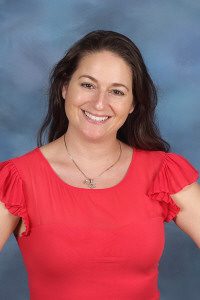 Bonjour,
My name is Mrs. Deziel and I am the Media Specialist here at Clyde Elementary school. I am very excited to be part of the Clyde Cardinal's family. I am a former fourth grade teacher and have been working in libraries since 2011. Working with children has always been my passion and I am excited to combine my love for libraries and of teaching. My family moved to Haywood County a little over three years ago so that Mr. Deziel could take a job as a professor at Western Carolina University. We love living here and enjoy getting to experience all the natural beauty around us. Our family is small but wonderful. I have a wonderful stepson whom I love, and a very sweet and very old corgi named Kami. I look forward to meeting and working with you and your families this school year. See you in the Media Center.
A Few of Mrs. Deziel's Favorite Things:
Food:  Pizza
Picture Book: Unicorn Think he's Pretty Great by Bob Shea.
Chapter Book: In the Unlikely Event by Judy Blume.
Song: Rise by Katy Perry
Past Time: Reading, Rollerskating, Hiking, Spending time with my family and my dog.
Things I am Passionate About:  Family, Students, Education,  Traveling, Gardening and Cooking, Reading, and Animals.