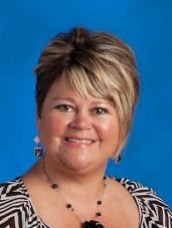 Hi! I am Tammi Sizemore.  I started working at Clyde Elementary in 2005.  I love Clyde Elementary School, the students and families are AWESOME!!!  
I have lived in Haywood County my whole life.  I graduated from Tuscola High School and later attended college at Western Carolina University.
I have three beautiful children, one of which is my husband. They have been great influences in my life.  I also consider all my current and former students as my children too.  I love each and every one of them!!
Children/family/pets:
In addition to my human family, I have 3 dogs, 1 cat and 1 frog.
Hobbies:
Bible journaling, singing, time with my husband and children
Fun facts about you:
I'm a pastor's wife, and also the director of the choir.