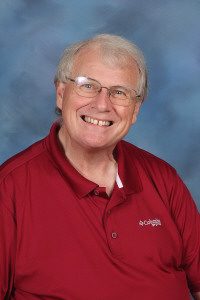 Grade level/Subject taught/Position:
II Teacher Assistant
How long have you been with Clyde elementary?
Spring 2017 [my children were students at Clyde]. I have volunteered and substituted here during the interim.
Work experience and past careers?
Minister; Director at Camp New Life; Educator Opportunities Instructor at Southwestern Community College
Children/family/pets:
Wife, Mary Ann – retired [Clyde School Assistant], Organist and Composer at 1st Baptist Waynesville
Amy [daughter] – doctoral student at University of North Texas
Kristen [daughter] – Assistant at Next Generation in Lexington, SC.  Married to Dustin.
Evan – grandson
Where are you from?
Texas
Where did you go to college?
Texas A & M University and Southwestern Baptist Theological Seminary
Hobbies:
Asheville Amblers Walking Club
Fun facts about you:
I weighed 80 pounds less than 4 years ago