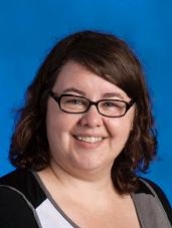 Grade Level/Subject Taught/Position:
Intensive Intervention Teacher's Assistant
What year did you start working at Clyde Elementary:
2007
Personal work experience or any past careers:
I worked at First Methodist Kindergarten, Daycare and Afterschool for 20 years. I am currently also the Box Office Manager for Haywood Regional Arts Theatre
Kids/Family/Pets:
My husband's name is Tom and we have a cat named Tallulah Madge.
Where you are from:
Waynesville, NC
Hobbies:
I LOVE to read, eat good food and going to DisneyWorld.
Fun facts about you:
I study belly dance at Raqs Beledi Studio in Waynesville.