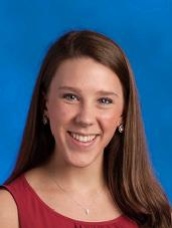 Ralph Waldo Emerson once said, "What lies behind you and what lies before us are tiny matters compared to what lies within us."  This year, as 5th Graders, we will work every day on what lies within us.  Throughout the fifth grade year we will face challenges whether they be comparing decimals, adding fractions, learning to put more details in our writing, constantly keeping track of our thinking, or struggling to make the best decisions for ourselves as learners.  The students and I will grow from these challenges and become leaders.
I attended Haywood County Schools from Kindergarten to 12th Grade.   When I graduated from Pisgah with the North Carolina Teaching Fellows Scholarship I attended Appalachian State University, where I proudly wore black and gold for the first time in my life!  I studied Elementary Education and could not wait for the moment that I could have my own classroom, with my own students.  That day finally came when I was hired here, at Clyde Elementary.
How long have you been with Clyde Elementary?
Three years
Hobbies:
Dancing and reading a good book
Fun facts about you:
I've danced for 15 years, I love to travel