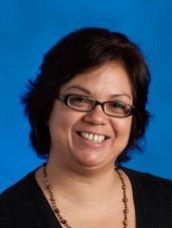 Grade Level/Subject Taught/Position:
Speech Language Pathologist (K-5)
How long you have been with Clyde Elementary:
Five years
Personal work experience and past careers:
Prior to coming to Clyde, I was working as an SLP in early intervention with the Birth-3 population and some preschool (4-5 year olds)
Kids/Family/Pets:
3 daughters, 3 dogs
Where you are from:
Originally from El Paso, Texas, I have lived in Waynesville, NC for over 20 years
Where did you go to college?
Western Carolina University [undergrad and graduate]
Hobbies:
Visiting museums/historic places, admiring glass art and stained glass, and watching movies. Hiking and listening to music.
Fun facts about you:
I'm older than you think 🙂