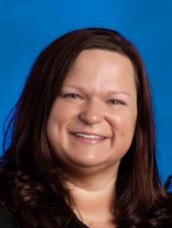 Hello. My name is Angela Ledford and this is my fourth
year at Clyde Elementary School as a reading specialist.
I am married to my wonderful husband, Kevin, and we are parents of two beautiful daughters, Harper, 2 years old and Briar who is 11 months old and two step-daughters – Melodie who is 15 and Allie who is 7 years old. I enjoy reading all genres of literature and my daughters love listening to me read picture books!  I hope to share our love of reading with the students of Clyde Elementary!!!
Work experience and past careers?
One year pre-K in Swain County and 10 years at Bethel Elementary School.
Where are you from?
Bethel, North Carolina
Where did you go to college?
Appalachian State University
Hobbies:
Read and fish
Fun facts about you:
Travel