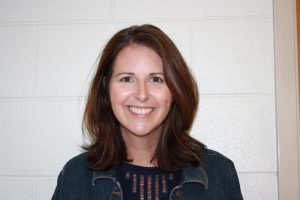 Grade Level/Subject Taught/Position:
Speech – Language Pathologist, II
How long have you been with Clyde Elementary?
Three years
Work experience and past careers?
I have worked for ASU, WCU, and Carolina Pediatric Therapy as well as other school systems.  I've also been a waitress and worked in a clothing store.
Children/family/pets
Husband – Scott; Two sons – Joseph is in 6th grade at Waynesville Middle School, and Sam, he is in 3rd grade at Riverbend Elementary. We have a 16 year old dog named Milo.
Where are you from?
Macon, GA
Where did you go to college?
Valdosta State University, Valdosta, GA and Appalachian State University, Boone, NC
Hobbies:
Hiking, jogging, watching my children play sports, volunteering at my church
Fun facts about you:
My husband runs the AYSO soccer league and I coach the VIP special needs soccer team!