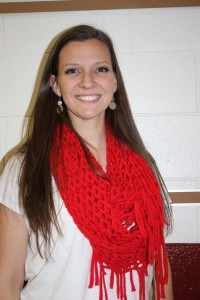 Hello! My name is Erin Horton and I am happy to be a Clyde Cardinal.  This is my second year at Clyde, it is my 9th year teaching. I have taught 3rd grade, 5th grade, and now 4th grade.  I was born and raised in Guilford County and am enjoying the beautiful scenery that the mountains of Haywood County have to offer.  I have been married to my amazing husband for 10 years and we have 3 wonderful children [Jeremy, Samantha, and Elijah] whom I love to spend time with.  I also love reading, spending time with my church family, and eating tasty food!
Teaching has always been my passion.  As a little girl you could find me up in my room teaching my stuffed animals how to read, write, and add.  My two younger sisters were usually forced to join in on the lessons as well.  I never had to question what I wanted to do with my life: I knew that God had planned for me to be a teacher from the start!  With a lot of hard work, diligence, and determination, teaching has proven to be one of the most rewarding jobs a person can have!
Where are you from?
Piedmont Triad area of North Carolina
Where did you go to college?
University of North Carolina in Greensboro