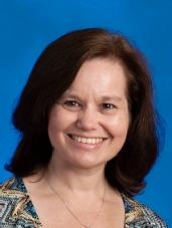 Grade Level/Subject Taught/Position:
First grade (currently), kindergarten, title 1
How long you have been with Clyde Elementary:
Since 2010
Personal work experience and past careers:
I worked at Frye's Skating Rink in the snack bar, I've been a nanny and I have worked as a social worker – I have a BSW [Bachelor of Social Work]
Kids/Family/Pets:
Husband Ralph, who teaches at Brevard College and is a Canton Alderman. Bonnie, attends Salem College and Suzanne, attends Pisgah. Pets-a dog named Mocha and a cat named Ianto, 2 turtles, one very old rabbit named Brownie
Where you are from:
China Grove, North Carolina
Where did you go to college?
Texas Woman's University for Social work and Brevard College for Education
Hobbies:
Photography and traveling
Fun facts about you:
I am an expert in music trivia – just ask me a question