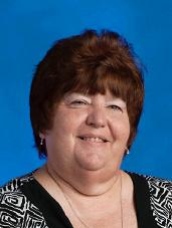 Grade Level/Subject Taught/Position:
Intensive Intervention Assistant
How long you have been with Clyde Elementary:
About 16 years
Personal work experience and past careers:
Before working with the school system I was a long distance telephone operator in Anchorage, Alaska, then earned my CNA certification from Haywood Community College, I volunteered at schools and worked as a PTA and PTO officer for several schools as my children progressed, I became a substitute teacher for Haywood County Schools and worked in the afterschool program at Meadowbrook Elementary School, I began my Assistant experience at Meadowbrook in the Haywood County Autism Classroom where I stayed until the class graduated to Middle Schools 6 years later after having moved to Clyde Elementary. At this time I became an Exceptional Children Resource Assistant where I used programs I had been trained in including Orton Gillingham Reading, Wilson Reading, and LLC to help in the knowledge which I strive to share with students today. In 2014 I became an Intensive Intervention Assistant  where I am today.
Kids/Family/Pets:
I have 3 children, 1 daughter and 2 sons who are all grown and I am raising 3 of my 4 grandchildren along with my husband of 39 years. I have 2 granddaughters and 2 grandsons. We have one dog named "Brownie" who is part pit and part who knows.
Where you are from:
I grew up in Haywood County just outside of Canton and attended Pennsylvania Avenue Elementary School, North Canton, Elementary School, Canton Junior High, Pisgah High School, and Haywood Community College.
Hobbies:
Piano, Organ, Reading, and crocheting.
Fun facts about you:
I lived in Alaska for 3 years and loved it there, I enjoy spending time with my family, I have traveled to 48 of the 50 United States, I played third base and catcher for Pisgah's first girl's softball team.