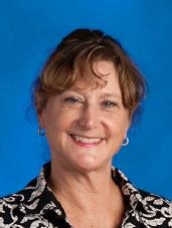 Elizabeth (Libby) Funderburk
Kindergarten/all subjects/teacher
This is my third year at Clyde.
I started teaching in 2001 and love teaching in the primary grades.
I am originally from San Diego, California, our family dreamed of moving to western North Carolina.  We moved to Candler, North Carolina in June of 2001.
I am married to John and between us we have three boys, one girl, and one daughter-in -law.
We are blessed with three beautiful grandchildren, one girl and two boys all under 6 years old.
We have 2 dogs, Kooper and Sasha.
I went to San Diego State for my teaching degree.
My favorite thing to do any day of the week is to read.  I love to read books that involve the law, military, and the south, I also like to bake.
I am a card SHARK.  I've been to Ireland to see the village where my grandfather was born.