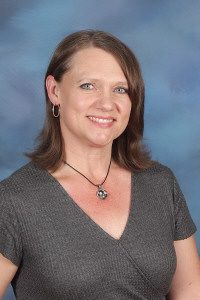 Grade Level/Subject Taught:  Art
What year did you start working at Clyde:  2018 but I also worked at Clyde from 2002 – 2009
Personal work experience and past careers:  I have worked as a secretary, salesperson, waitress, a teacher at a child development center, and a teaching assistant before I became a teacher.
Kids/Family Pets: . My husband John and I have three daughters-Madeline, Olivia, and Mariel.  We also have one cat, two dogs, and seven goats.
Where are you from:  Waynesville, NC
Hobbies: I love to draw, paint, sing, play handbells, camp, fish and read.
Fun facts about you:  My mom taught at Clyde Elementary for thirty years so though, I didn't attend here as a child, I spent quite a bit of time here.  My grandmother and great grandmother were also teachers in Haywood County.