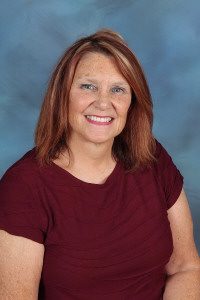 Name:
Susan Breese
Grade Level/Subject Taught/Position:
First grade teacher assistant
How long have you been at Clyde Elementary School?
Since February 1st, 2016
Work experience and past careers?
Graphic Artist in Charolette and Asheville, North Carolina
Children/family/pets:
Two Children, Melissa and Bradley.  One cat, Wubbie, and a dog, Chloe.
Where are you from?
Waynesvegas
Where did you go to college?
Brenau College, Gainsville, Georgia, and graduate school at University North Carolina in Greensboro, North Carolina
Hobbies:
Anything having to do with art, currently painting rocks.
Fun facts about you:
I love to have fun!