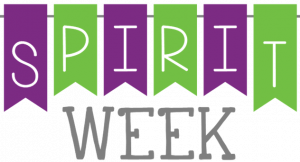 October 11-15
Monday  : USA Day : Show your American spirit by wearing Red, White, and Blue!
Tuesday: Groovy Day :   Be a groovy cardinal and show off your best tie-dye!
Wednesday : Rockin' Socks Day : Rock the day  wearing your craziest socks!
Thursday :  Superhero Day : Show your super school spirit by representing your favorite superhero! 
Friday: Bear or Mountie Day: Red & Black or Black & Gold, dress to show who you will be cheering for at the big game!