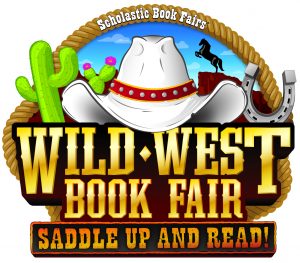 Book Fair is on the way!
Our theme this year is Wild Wild West: Saddle Up and Read! So make sure you stop by and find your very own partner at our Fall Book Fair from Wednesday 10/18/17- Tuesday 10/24/17 or check it out online at http://www.scholastic.com/bf/clydeelementaryschool3
Book Fair Spirit Week:
*Wednesday– Book Fair Kick Off! Book Fair opens today!! Anyone wearing "wild wild west" attire (cowboy boots, cowboy hats, bandanas, etc) can come to the library and enter their name for a chance to win a $10 gift certificate to the book fair.  We will be drawing 3 lucky winners at 10:30am!
*Thursday– Family Night! 6:00pm-8:00pm
Clyde Elementary will be hosting our semi-annual Book Fair Family Night during our Fall Festival!  Bring your families and come to the library! Starting at 6:00, we will be showing a movie, handing out free popcorn, drawing for a few candy and soda door prizes, and you will have a chance to enter to win our family reading basket!
*Friday– Lunch With a Loved One!
Children are invited to bring their grandparents, aunts/uncles, parents and other loved ones to lunch in the library (at the children's regularly-scheduled lunch time). Loved ones may bring a brown bag lunch or buy from the cafeteria, and bring to the library.  After lunch they are welcome to take their student to the Book Fair in the library, browse and have their picture taken in our photo booth!