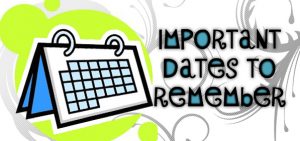 Regular Administration:
Reading- Thursday, May 25th         Math- Friday, May 26
Students with Multiple Testing Sessions:
Reading- Thursday, May 25 and Friday, May 26                 Math- Tuesday, May 30 and Wednesday 31
Science: 5th grade- Thursday, June 1
RTA: 3rd grade – Thursday, June 1
Extend 1 Testing- May 30-June 2
Grades 3-5 are getting ready for end-of-grade testing in reading, math, and science.  Here area few things you can do at home to make sure your student is prepared.
Make sure your student gets plenty of rest the night before the testing session.
Eat a healthy breakfast that includes protein to fight hunger during the testing session.
Be on time to school- testing will begin right after morning announcements.
Remain positive! Encourage students to listen to and follow all directions given by the test administrator.  If they have questions, they need to be addressed before testing begins.